Dani Marrero Hi
Reimagining our digital organizing
During these unprecedented times...
In these uncertain, scary times...
Actually, let me just be real for a moment— the last couple of months have been particularly challenging for our digital team at the Texas Civil Rights Project.
On top of our usual advocacy to defend the rights of all Texans, 2020 has pushed us to shift all of our campaigns and projects to 100% digital for the foreseeable future. I know I don't need to explain why— we're all living through it. Thankfully, our staff has been quick to adapt, from working from home to finding new ways to challenge the injustices that our state and national governments inflict on our communities. It's been an all-hands-on-deck effort to coordinate our day-to-day operations, make sure our staff has everything we need to feel safe, and continue doing our work in and out of the courts.
But the truth is we are a small and scrappy (but mighty) digital team. From the outside, it might seem like we're bigger than we are, but in reality it's just two non-binary queers (my colleague Ash and me) sitting 500 miles apart from each other furiously typing on Slack all day. We're constantly punching way above our weight (and getting sh*t done while doing so).
For example, TCRP helps lead the largest nonpartisan voter protection program in Texas. Most recently, we also filed a lawsuit to expand vote-by-mail and ensure that Texans don't have to choose between their health and participating in our democracy. Now, trying to communicate the latest developments on those two efforts under the regime of an unhinged state government has been pretty much the equivalent of trying to describe a disappointing clown show in the dark (looking at you, Ken Paxton).
Nevertheless, our commitment to this work is as strong as ever. This team has never thought twice about rising to whatever occasion calls for our help, and 2020 is no exception.
In less than two months, we've re/launched three new digital tools at TCRP.
First, we launched a new digital magazine called... wait for it... TCRPMag. In fact, you're on it, right now. We wanted to create an outlet for our staff, partners, and anyone in the community we work alongside with to talk about the latest issues and inspire Texans to change the world. So far, we've been able to tell the stories of how we're fighting border wall construction, the state of voting rights in 2020, and very soon we'll announce exciting updates for our Criminal Injustice Reform program. We have some really cool projects down the pipeline for TCRPMag, and I can't wait for y'all to take part in them (stay tuned for #PrideMonth!).
Desktop preview of news.txcivilrights.org
Second, we relaunched a website to help high schools across the state give eligible students an opportunity to register to vote, as is mandated by Texas law.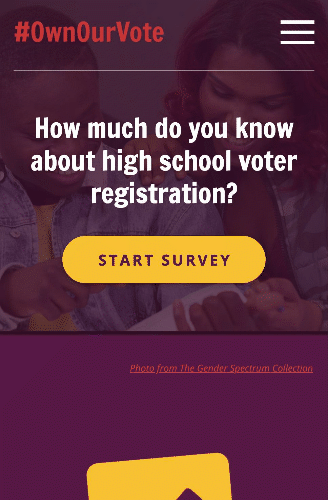 Mobile preview of ownour.vote.org
Third, we relaunched our TCRP website with a new design and framework to make our digital home better, faster, and easier for Texans to find information about TCRP and connect with us.
Desktop preview of txcivilrights.org
Now, we want to hear directly from you: What we should do next? We've set up a form to gather your ideas. What should we design? How should we use our email and texting tools? What do you want to see on our Instagram? Should we get a TikTok? What's the best way for us to reach people in your county or city? We want to hear from all of you.
Ultimately, we want to do what is going to make our campaigns, our communities, and our efforts alongside you stronger and more effective to make our state safe and fair for all of us.
We've got some ideas, and we know you do, too. Tell us about them here.
Dani is the digital manager at Texas Civil Rights Project. @danimarr94